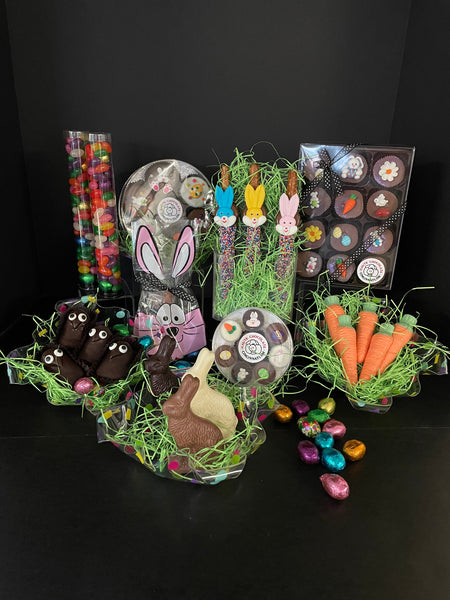 Easter Basket in a Box!
Hippity Hoppity ! You may not be able to stop in our showroom,just yet for Spring 2021, so we will send some Spring Showroom to YOU! Easter Basket in a BOX! This box of goodies features some of our most popular and tasty, individually wrapped Basket components. This selection is crafted to suit one BIG basket or a few less than BIG ! All components of this collection are bagged or boxed, sho you can create your own stash or share ...if you must? 
Includes: 
Two (2) reclosable tubes of Jelly Belly Pure Pectin Jelly Beans
Two bags of Solid Chocolate Eggs (One bag of Milk, One Bag of Dark)
Three Caramel Chocolate Bunny Pretzel  Sticks
Three (one of each ) White ,Milk, Dark Solid 2.5 ounce Chocolate Bunnies
Haute Bunny Bag filled with  White Chocolate Oreo Cookie Bark 
Oreo Round (7 Decadent Chocolate dipped and decorated Oreo Cookies 
Twelve Delicious boxed  Peanut butter Cups  
Easter Chocolate Round (8 piece)
Orange Cream Carrots (5)
Box of Chocolate dipped Peeps

Bag of Paper Easter Grass,to pretty up the Basket of course!
---