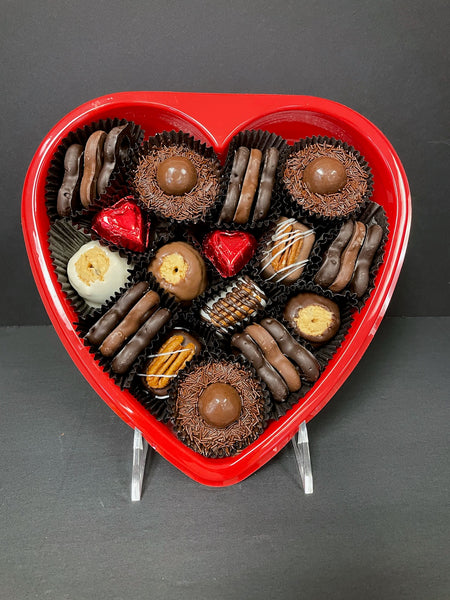 Haute Lovers Confection Selection
Can't make up your mind ? What is not to love here...?
Sometimes you just gotta mix it up ! We are proud to offer this assortment of our most popular Haute hallmark, hand batched, and hand dipped original goodies.  We create these goodies in our kitchens daily, for YOU!
Our most popular assortment features Haute's award winning Peanut Butter Buckeyes, Caramel "Hunk's,  Geodes, and not to be underestimted, our Dark and Milk Chocolate mini Pretzel cups... Whoa.  Yeah, our stuff is often imitated, but this selection has NO equal.
It gets better. We have ALL flavors of Chocolate featured in this Heart shaped recloseable box as well.  Though, there is no need to reclose the box, is there? 
Something in this assortment, is sure to please even the most discriminating Chocolate lover.

Includes:
One delicious assortment of Haute goodness (24 pc)
Heart Box
Ribbon
---