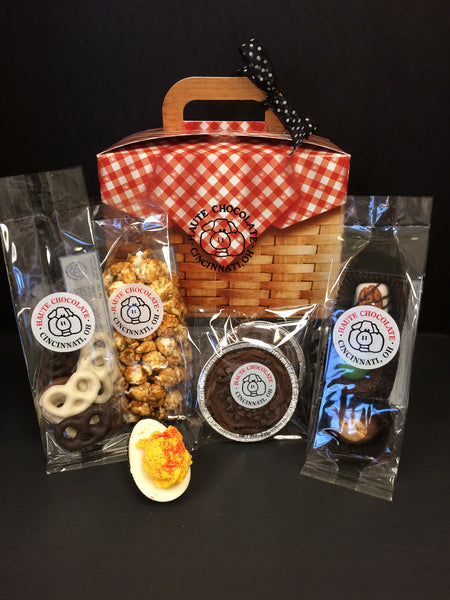 The Haute "Pignic" Basket
Can't get out for the Picnic ? We will send the Picnic to YOU!
Who doesn't like a Picnic?  Especially if you don't have to worry about leftovers?
 There is a little bit of all your favorites in our Specialty"Pignic"box. This is the perfect way to celebrate and exercise your love of Chocolate and all the good vibrations of a traditional outing."Weather" or not you choose to picnic in your favorite Park, Back yard, Living Room or Balcony, this "Pignic" basket is chock full of Haute's most popular favorites. Here is what we have packed in the "Pignic" basket  for you... 
Includes: 
Two (2) Lisa's Mini Nutless Double Chocolate Chip Fudge Brownies
One(1) Bag Freshly kettled Crunchy Caramel Corn
One (3 pc) Triple Treat:  Buckeye, Caramel Hunk, and Pecan/Chocolate Geode
One (1) Bag of White, Milk. Dark Assorted Chocolate dipped Pretzels
One (1) Haute's  White Chocolate, Creamy Caramel filled Deviled Egg
---