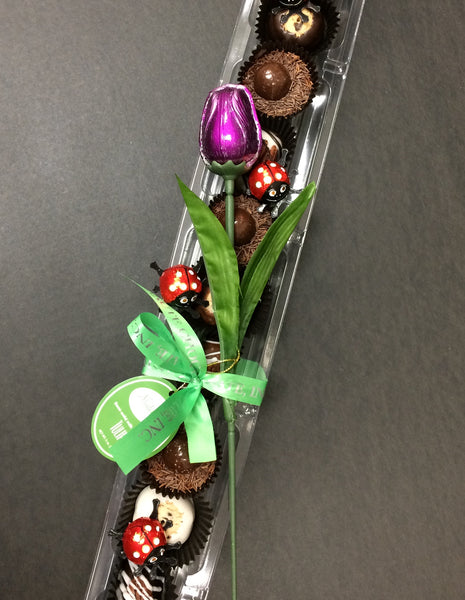 Haute Bon Bon Bouquet
This uniquely packaged Delectable Dozen Haute Chocolate Treat is known in our shop as "The Long Box. This gift of Signatures will not come up short...  
We package an assortment of our most popular Artisan Confections in this box, finish it with luscious foil wrapped Peanut Butter filled Ladybugs, and close it, seal it, and ribbon it with a Foil wrapped chocolate Tulip.  We then wrap it in a Floral bouquet box, so  the recipient of  the "Bouquet" is overjoyed to discover that they have received almost three feet of fabulous signatures sent from you ! Made by us...
Includes:
Six (6) Haute chocolate Peanut Butter Buckeyes
Three (3) Haute Chocolate Pecan topped Chocolate dipped Caramel Hunks
Three (3) Haute chocolate Caramel Pecan Malt ball Geodes
Five (5) Foiled Peanut Butter Ladybugs 
One ( 1)  Foil wrapped Chocolate Tulip
Bouquet Gift box /Ribbon 
---